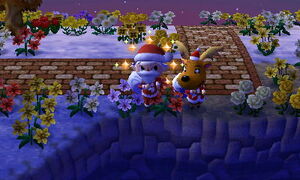 As the year comes to a close, let's look back on all the great memories we made together with our villagers, friends, and family. Snow is here, which means it's time to build a Snowman! Don't forget to pick out presents for your villagers for Toy Day, too!
Events
[
]
Festive Accessories Season (All month) - The Nooklings' Shop will be selling festive accessories instead of Fortune Cookies this month. Don't miss this limited time offer!
Festive Furniture Season (December 1 to 23) - Stop by the Nooklings' Shop to pick out some furniture from the

Festive Series

! North American players can sometimes find a

Festive Flag

or

Festive Tree

in the store.
Gift Hint Season (December 1 to 23) - Make sure to talk to your villagers this month. They'll give you hints as to the color and type of item that the want for Toy Day.
Santa Clothing Season (December 1 to 24) - Able Sisters and Kicks will be selling pieces of the

Santa Outfit

this month. Dress for the occasion!
Snowflake Season (December 1 to February 24) - Keep an eye out, you may find

Snowflakes

which can be traded to

Snowmam

for pieces of the

Ice Series

! Take out your net and happy hunting.

Naughty-or-Nice Day

(December 6) - Happy Saint Nicholas' Day, European Crossers! Have you been good this year? Drop by the event plaza and receive a

Wall Sock

from Isabelle. Make sure you're there between 6am and midnight!
Fishing Tourney (Second Saturday) - This event occurs on the second Saturday of the month, and runs from 9am to 6pm. This is the only way to obtain the Fish Series.

Snow Season

(December 11 to 30) - Winter means snow! This is the time for it. It doesn't affect anything, but it sure is pretty.
Aurora Season (December 11 to February 24) - Eyes to the skies! During the winter months, you might spot a beautiful aurora borealis at night. Keep an eye out around 8:45pm, 9:30pm, 10:15pm, and 11pm.

Snowball Season

(December 11 to February 24) - Do you want to build a snowman? Well here is your chance. Between the months of December and February, push together two snowballs to build a member of the

Snow People

family. Each one will give you a rare, exclusive item if you meet certain criteria.
Decorated Pine Tree Season (December 15 to January 3) - To celebrate Christmas, or rather, Toy Day, your pine trees will be decorated with colorful lights. How pleasant!

Winter Solstice

(December 21 or 22) - Winter's cousin to the Summer Solstice, this event is exactly as it seems. No matter what time you are playing, it will appear to be night time! Drop by the event plaza between 6am and midnight to receive a

Blue Light Stick

from Isabelle. Now you can really light up the night! Er, day. It's so hard to tell!
Toy Day (December 24) - Ho ho ho! Merry Christmas! Today you will receive a piece of furniture or clothing in the mail from either your Mom or Dad. It's also your chance to meet Jingle himself. Talk to him, and if you have a Santa Outfit on, you'll have the chance to deliver presents to your villagers. If you get them right, you'll receive Jingle's picture in the mail the next day. Groovy!

Countdown

(December 31) - The very end of the year is upon us. Do you have any regrets? You better start making those resolutions! Stop by the event plaza and pick up an exclusive item from Isabelle depending on your region.

Tweeter

for English and Italian Europeans, Berliner for German players,

Sparkling Cider

for French and American players,

Twelve-Grape Plate

for anyone in a Spanish country,

New Years Noodles

if you're in Japan, or a Bell Knicknack if you're in Korea. You can also receive party hates from Redd. Stick around until midnight for the festivities!
Birthdays
[
]
Quillson

- December 22nd

Ken

- December 23rd

Ruby

- December 25th

Pashmina

- December 26th

Goldie

- December 27th
Bella - December 28th

Vic

- December 29th

Hugh

- December 30th

Marcel

- December 31st
Fish
[
]
Italics signify new fish this month. Bold signifies fish that don't appear next month. This list excludes year-round fish.
Bugs
[
]
Italics signify new bugs this month. Bold signifies bugs that don't appear next month. This list excludes year-round bugs.
Deep-Sea Creatures
[
]
Italics signify new deep-sea creatures this month. Bold signifies deep-sea creatures that don't appear next month. This list excludes year-round deep-sea creatures.