"I caught a giant snakehead! But where's the rest of the snake?"
Giant Snakehead
Scientific Name
Channa argus
Family
Channidae - Snakeheads
The Giant Snakehead, Channa argus, is an uncommon fish found in the river pond between the hours of 9am and 6pm, between the months of June and August. It sells for 5,500 Bells, and is considered the daytime counterpart of the Gar.
Museum
[
]
An information board in the aquarium will provide information about this fish.
"Giant snakeheads get their name from the fact that their heads look like those of snakes. Their scales and patterns also look like snakes', really bringing the resemblance to a high degree. They have sharp teeth, so don't poke your finger anywhere near their mouths! Both males and females are well known for protecting their eggs and offspring. They will scare off any other fish that approach by frantically waving their tails."
In real life
[
]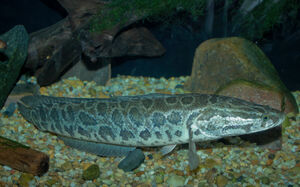 The Northern snakehead is a type of snakehead fish native to China, Russia, North Korea and South Korea. They can grow to be up to 40 inches (1 meter) long, and weigh up to 15 pounds. The northern snakehead is able to breathe air, allowing it to live out of water for several days, where it may wriggle its way to other bodies of water. Only young species are able to wriggle across land, though. The snakehead prefers stagnant water with lots of mud and vegetation. Its diet mainly consists of crustaceans, other invertebrates, and amphibians.
In the US, the snakehead is considered an invasive species. It is considered a top-level predator. In 2002, a fisherman discovered one in a pond in Crofton, Maryland. It was considered to be a threat to the Chesapeake Bay watershed, so they drained the pond, finding and destroying two adults, and 100 small fish. In 2004, nineteen northern snakeheads were captured in the Potomac River, where they are now breeding and commonly living.
Many other areas of the US have experienced outbreaks of this fish, and chemical agents are released into those ponds to kill off the species in the area. Anglers are urged to report and capture any they may find