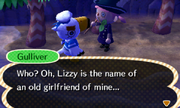 Gulliver is a travelling seagull in sailor clothes who will ocassionally get washed ashore to your town's beach.
Once he awakens, he will ask you to help him find out where he's originally headed to. Should you answer correctly he will send you a souvenir through mail.
Gulliver's Clues
Answer

Long ago, the people of the place I was headed to set out to explore Europe and the rest of the world.

I heard my great-great-great-great-grandseagull Gulliver St. Gullivive explored most of the world himself!
And he stopped in this place too, just to give them the idea!

But I digress...
The explorers of this country traveled the world by boat.
The first in Europe to do so!
India, China, Japan... They visited all sorts of exotic countries and experienced exotic cultures!

To a sailor like me, it's like a pilgrimage to visit there!

Portugal
Community content is available under
CC-BY-SA
unless otherwise noted.