"I caught a horse mackerel! Holy mackerel!"
Horse Mackerel
Scientific Name
Trachurus japonicus
Family
Carangidae - Jacks
The Horse Mackerel, Trachurus japonicus, is a common oceanic fish that can be found all day, year-round. It sells for a measly 150 Bells.
Museum
An information board in the aquarium will provide information about this fish.
"With their appealing flavor, horse mackerel have long been a cheap and common food source. However, in certain regions, they have actually been branded as something of a luxury dish. They have tough scales on both sides of their bodies that must be removed before preparing. Though small, they are formidable carnivores. Since they go after bait, they are popular with fishers."
In real life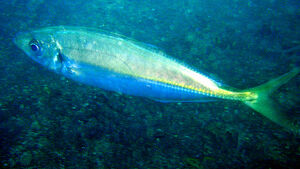 The Japanese Horse Mackerel is a marine fish that can be found around the coast of Japan, apart from Okinawa Island. They are an important commercial fish in Japan. Their maximum reported length is 50 cm with a common length of 35 cm. They have a maximum reported weight of 0.66 kg and a maximum reported age of 12 years. They feed mainly on small crustaceans such as copepods, and shrimps and small fish.
Gallery