This page is currently under construction.
Please help us expand this article by editing it.
Joey
Gender
Male
Personality
Lazy
Species
Duck
Birthday
January 3rd
Initial Phrase
"bleeeeeeck"
Initial Clothes

No. 3 Shirt
Joey (リチャード, 'Richādo'?, Richard) is a lazy duck villager in the Animal Crossing series. He has appeared in every game in the series. He appears on the album cover for K.K. Parade.
Appearance
[
]
Joey is a yellow duck with thick, dark-gray eyebrows, small dot eyes, an orange beak and no hair. He wears a sumo loincloth, possibly due to his apparent goal of being a sumo wrestler.
Personality
[
]
Below is a brief description of the lazy personality.
As a lazy villager, Joey has a relaxed, laid-back lifestyle and will appear friendly toward the player. He often talks about food and is humorous or naïve during conversations. During conversations with other villagers, he generally gets along well with peppy, smug, and cranky villagers, while snooty and jock villagers may not get along with him due to their conflicting lifestyles.
House
[
]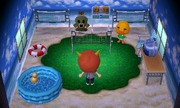 Joey's House includes the, Backyard Pool, Volleyball Net (x3), Ringside Table, Life Ring, Mega Oboid, Scoreboard, Lawn Chair, and the CD Player. He has the Tropical Vista and Tropical Floor for his walls and floor. His favorite song is K.K. Calypso.