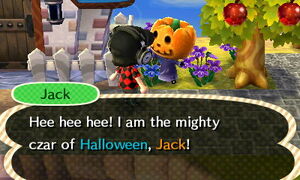 October is an autumn month. Halloween is upon us, and the Nooklings' Shop and Able Sisters are feeling the spirit! Prepare for the festivities with costumes, candy, and interior decorating. The leaves and grass will begin to shift to fall colors, giving that crisp autumnal feeling.
Events
[
]
Halloween Items (All month) - The Nooklings' Shop will have the

Spooky Series

in stock throughout the month. Drop by to decorate your room to fit the holiday spirit! The Able Sisters also join the fun, as they'll have spooky costumes and clothing on sale.
Autumn Moon (Closest full moon to the Autumnal Equinox) - Look to the sky and appreciate that glorious orb of rock orbiting our planet. Drop by the Plaza to get a Wheat Bundle from Isabelle. If you own a European version of the game, you'll be given a Veggie Basket. Koreans will get a Songpyeon. Japanese players will receive a Dango.

Explorer's Day

(Second Monday) - Celebrate Christopher Columbus' journey to North America today with a

Sailboat Model

 from Isabelle.
Fishing Tourney (Second Saturday) - This event occurs on the second Saturday of the month, and runs from 9am to 6pm. This is the only way to obtain the Fish series.

Halloween

(October 31) - Find

Jack

and give him

lollipops

from villagers to get furniture from the

Spooky series

and

Creepy series

. See the main page for more details.
Birthday
[
]
Diva

- October 2nd
Big Top - October 3rd

Goose

- October 4th

Elmer

- October 5th

Tex

- October 6th

Cobb

- October 7th

Kiki

- October 8th

Drift

- October 9th
Benedict - October 10th
Franklin - October 10th
Kitt - October 11th

Lyman

- October 12th

Chops

- October 13th

Egbert

- October 14th
Brewster - October 15th''

Hippeux

- October 15th

Friga

- October 16th
Limberg - October 17th
Al - October 18th
Redd - October 18th

Clay

- October 19th
Antonion - October 20th

Timbra

- October 21st
Katie - October 22nd

Groucho

- October 23rd

Broffina

- October 24th

Portia

- October 25th

Eugene

- October 26th

Jambette

- October 27th

Gaston

- October 28th
Katrina - October 28th

Rodeo

- October 29th

Jack

- October 31st
Labelle - October 31st
*Bolded names are special characters, not villagers
Fish
[
]
Italics signify new fish this month. Bold signifies fish that don't appear next month. This list excludes year-round fish.
Bugs
[
]
Italics signify new bugs this month. Bold signifies bugs that don't appear next month. This list excludes year-round bugs.
Deep-Sea Creatures
[
]
Italics signify new deep-sea creatures this month. Bold signifies deep-sea creatures that don't appear next month. This list excludes year-round deep-sea creatures.