This article is under construction

This page is currently under construction.
Please help us expand this article by editing it.
Poncho

Gender
Male
Personality
Jock
Species
Bear
Birthday
January 2nd
Initial Phrase
"li'l bear"
Initial Clothes
Blue-Grid Tee
Poncho (ポンチョ, 'Poncho'?) is a jock cub villager that has appeared in every game in the Animal Crossing series. His name refers to a poncho, an article of clothing. His catchphrase is "li'l bear", which has to do with the fact that he is a bear cub himself.
Appearance
Poncho is a navy blue bear cub; he may be based on the speckled bear, a diminutive species native to the Andean mountains and the only surviving species of bear in South America. He has light blue hair, and a yellow muzzle. The tips of his paws and feet are also yellow.
Personality
Below is a brief description of the jock personality.
As a jock villager, Poncho is energetic and has an interest in physical fitness and activity. He often talks about exercise or sports and may brag about his physical fitness. While often friendly to the player, he may comment on their fitness. During conversations with other villagers, he generally gets along well with peppy villagers due their similar hyper personalities and will also get along with smug villagers, while he may offend snooty villagers by critiquing their fitness and annoy cranky villagers with his hyper personality.
House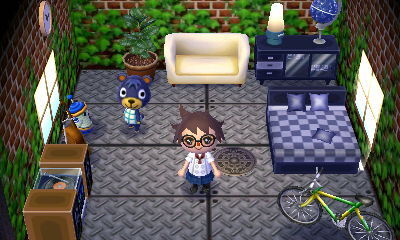 Poncho's House includes the, Modern Bed, Cream Sofa, Modern Cabinet, Mountain Bike, High-End Stereo, Rubber Tree, Folk Guitar, Mini Harmonnoid, Manhole Cover, Table Lamp, Star Globe, Minimalist Clock, and the Air Conditioner. He uses the Ivy Wall and Steel Flooring for his walls and floor. His favorite song is K.K. Condor.