This page is currently under construction.
Please help us expand this article by editing it.
Scallop
Have an image of this fish?
Then please
upload
it!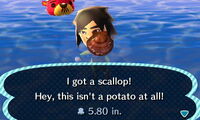 Scallops (ホタテ, Hotate?) are a type of deep sea creature. When the player finds a scallop in the town, Pascal may rise from the surface and ask the player if he can have it. If the player chooses to give it to him, he rewards the player with pirate-themed furniture in return.
Donating to the museum
[
]
Upon being donated to the Museum, it can be found jumping around in the large tank in the first room of the fish exhibit. The exhibit says this about the scallop:
"Scallops inhabit the cool ocean bed. They swim by rapidly clapping together their shell valves. The black dots on scallops, known as wavy "strings", are actually their eyes. These eyes number over 80 but only really function as a means to sense light rather than motion. Often grilled or buttered, scallops have become a tasty seafood enjoyed all over the world."